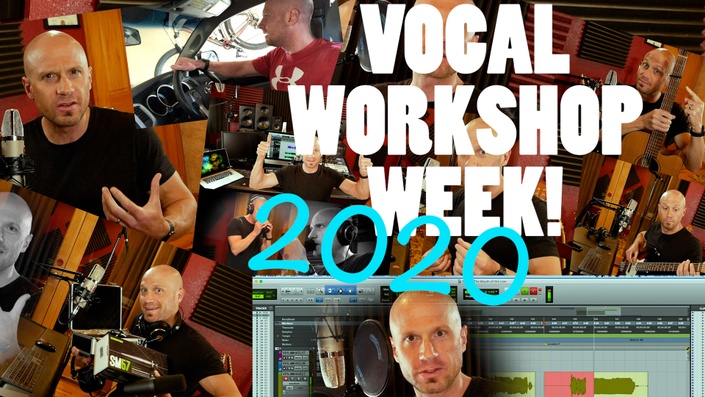 Exclusive! The Wonderful Vocal Workshops of 2020
FOUR Student-Driven Sessions... 6+ Hours of Interactive Training... Go Deep With 'Hot Button' Singing Topics
As I continue to interact with many wonderful singers and students alike, I've noticed FOUR distinct 'buckets' that almost all questions could fall into:
1) Vocal Care
2) Covering Songs WELL
3) How to Practice <<A BIG ONE
4) Performing & Practicing Environments.
Perhaps you've asked some of these questions lately:
My voice just doesn't sound or feel right... How do I know I haven't done some serious damage?

How do I ensure I don't injure something important while practicing aggressive and emotionally-infused singing?

What impact do certain lifestyle habits and choices have on my singing? Where's the balance? I want to be free AND have a voice!

Every time I sing a song by someone else, it pales in comparison... Not even close! How can I create better covers of my favorite songs?

I'd love to start making engaging, musical YouTube content, but I don't know where to start! Can you help me?

I'm on a tight budget and I don't have extra money laying around for lots of gear. Can I still have success as a content creator? If so... How?

I've learned a lot about my voice this past year, but one think I still struggle with is consistent PRACTICING. I feel like I'm always over or under doing it. Can you help me create a plan?

Why does my voice work fine on some days, but fail miserably on other days? What's wrong? How can I make things more consistent?

I'm reasonably fine with the way my voice is, but it's just... a bit boring. And practicing is boring too. How can I make BOTH more exciting and engaging?

Where's the best place to practice? Should I always sing into a mic? What mic should I use? How often should I just SING and not worry about gear stuff?

What about my neighbors? I feel like I'm always disturbing them. I can do some things quietly, but I have no way to really cut loose. Can you help?

I get the whole 'singing in the studio' thing, but when I go to sing live, everything seems to fall apart. How can I prepare for a great live performance?
I bet you have lots of other great questions too!
... ...
That's EXACTLY Why I've Created This Opportunity For You
These FOUR custom-tailored workshops are designed to meet you where you are at, pull some amazing things out of your singing, AND allow you to interact in a way that most online course experiences can't!
You get to enroll in advance... Get all pumped up... Formulate YOUR questions... YOUR goals... Realize YOUR trepidations...
The result? You engage in direct, targeted training that has been designed to help you with problems you didn't know you had... AND... !!! AND!!! ...Problems you DO know you have :)
Workshop Week is going to be streaming LIVE from December 7th through December 10th and will be available as a full ON-DEMAND experience forever. You are MOST WELCOME to join me live, but you don't have to be with me live to interact with me in the most meaningful ways!!
So it's imperative that you sign up NOW, reserve your spot, and get your questions and other remarks in ASAP!
Here's a schedule and a brief summary of what each session covers:
Course Curriculum
Vocal Care & Costly Killers
Available in days
days after you enroll
Creating Captivating Cover Songs (For YouTube)
Available in days
days after you enroll
Purposeful & Perpetual Practicing
Available in days
days after you enroll
Frequently Asked Questions
When does the course start and finish?
The experience starts NOW. Enrollment Closes November 30th, 2020. Then, I take all the wonderful content each enrollee provides and combine it with my curriculum for each session. The workshops will stream LIVE from December 7th - 10th each at 1PM Mountain Time. They'll be available forever following the streaming!
This sounds great, but I can't make it at any of those times! Is it still worth it??
YES! That's why I'm taking this HYBRID approach. We get the student/vocal coach interaction spread out over nearly a MONTH! Because you can start conversations prior to Workshop Week, you can interact with me and others whether join us live or not! And remember... You get lifetime access to the course!
What if I don't like it? ...I mean after Workshop Week... Can I get my money back?
Yep! Even after the sessions, you can get a full refund for up to 30 days after you enroll... No questions asked! (I think you're really going to like it though, that's why I'm confident enough to put in all this work and STILL offer a refund policy :) )
How do I ask my questions and give comments in advance?
Once you enroll, you'll be directed to the course curriculum. I've left instructions and created special sections for you to make your mark!
How do I access each session?
Within the course curriculum, you'll be given exclusive links to each session. After Workshop Week, the videos will also be embedded and 'chaptered' for seamless, on-demand access. Simply follow the links under each header section of the course. You can't miss 'em!
Will you also be taking questions during the sessions?
YES! In fact, after the end of each 1 hour long event, there will be a dedicated Q&A time.
How long is each session?
Each workshop will be approximately ONE HOUR followed by an open-ended (roughly 30 minutes) Q&A session.
Enrollment closes November 30th at 11:59pm Mountain Time! Get in... Start talking! ...And I'll see you in the course!